10 Synonyms for Increasing Your Score in IELTS Exam
---
Now when you have already learned tricks for IELTS Writing, Idioms and Vocabulary, let's take a step forward and learn the most used synonyms for your coming IELTS exam. I am sure that you understand the meaning of word synonyms (a word that means nearly the same as another word). KnowYourTutor has come up with a series of blogs that is a boon for those who are preparing for IELTS exam. If you are aware of these below-mentioned synonyms than you can apply them while giving the speaking as well as writing an exam. Here is a list of 10 common synonyms that can be used to improve the IELTS overall score. Each word has been used in a sentence for you to understand it better: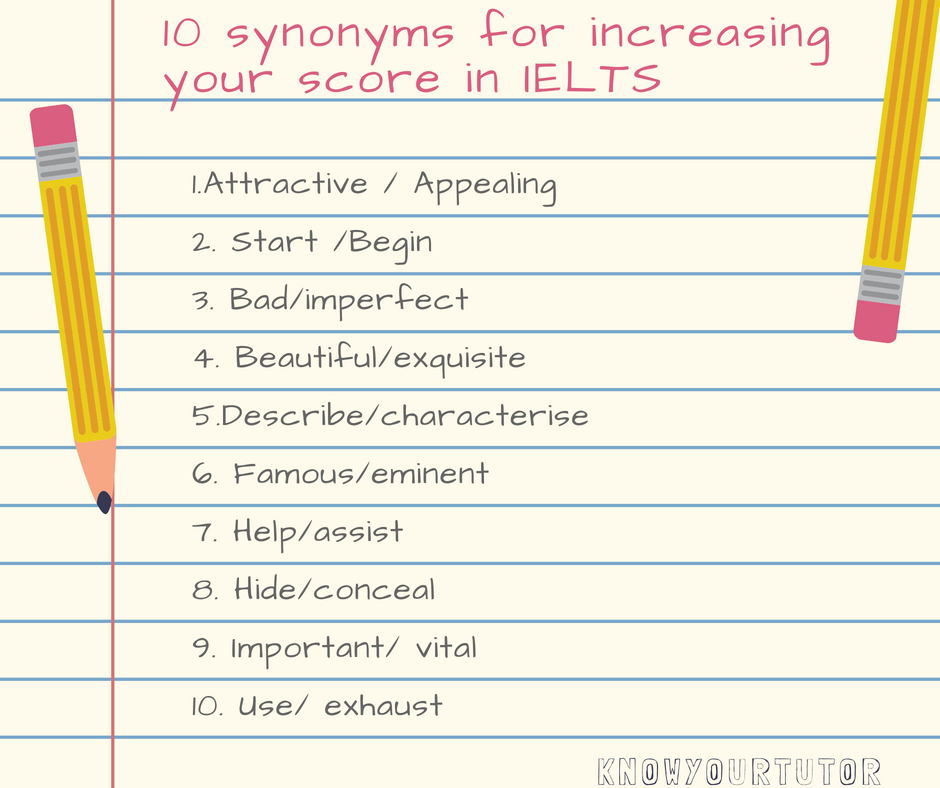 1.     Attractive / Appealing
The examiner seems to be very attractive (Appealing)
2.    Start /Begin
The exam will start (begin) at 10 A.M
3.    Bad/imperfect
They have a bad (imperfect) habit of rubbing my nose.
4.    Beautiful/exquisite
The way to a beautiful (exquisite) life is to Smile.
5.    Describe/Characterise
Describe (characterize) the best moments of your life?
6.    Famous/eminent
I dream to become a famous (eminent) personality.
7.    Help/assist
Please help (assist) me with this question.
8.    Hide/conceal
Never hide (conceal) your fears.
9.    Important/ vital
Who is the most important (vital) person in your life?
10.    Use/ exhaust
Don't use (exhaust) all your money in one go!
These were the 10 synonyms which you can practice using in your daily routine. Once they become a part of your vocabulary, you will be fluent in your speaking.
The blog series compiled by Knowyourtutor for IELTS exam is getting a good response. We would like to appreciate everyone reading our blog series for the zeal to learn new things. Any suggestions for the next topic are welcome.
We also deal in IELTS Coaching in Chandigarh / IELTS Coaching in Delhi / IELTS Coaching in Jaipur / IELTS Coaching in Mohali / IELTS Coaching in Panchkula / IELTS Coaching in Ludhiana / IELTS Coaching in Amritsar / IELTS Coaching in Bhathinda/ IELTS Coaching in Dehradun/ IELTS Coaching in Rohtak
Written by: Phalak Betab (www.themarketer.in)