IELTS- The 5 Steps Study Plan
---
IELTS or the International English Language Testing System is solely formulated for the immigrants who either want to study or work abroad in countries like Canada, USA, UK, Australia, Ireland and New Zealand.In a simplified manner, it can be said that,as the preferred language of these countries is English only so, they want to be assured whoever is coming to their country from outside, that person must be able to speak, read and write in English with great proficiency. This is good and safe for the immigrants also for, a person with no fluency in English can find it really difficult to spend days in the above mentioned countries.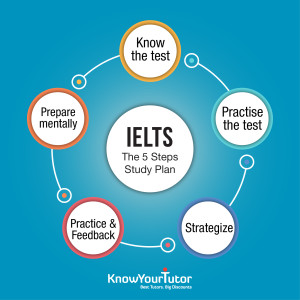 So, what is the significance of the IELTS examination? Before I move to its significance, let me ventilate that nearly 2 million people every single year appear for this test and this includes both students and working people. Only after passing this test successfully, one can enter his preferred foreign university in those countries. This exam is approved by the majority of employers, immigration authorities, government organizations, and universities of the Western countries. It is thus a very common test which not only assesses your English proficiency level but, there are numerous considerable factors that are assessed by the examiner. Before you sit for this exam, you need to know all the details related to this so that you don't remain in haze and gains confidence to sit for the test. I am going to discuss here the most remarkable process that can guide you really well, step by step to know about this exam and its every feature. So, let's get started.
Know the test
This implies upon knowing what the test is all about and to be very clear if you don't know what comprises this test, you are not going to secure even pass marks. Many people overlook this first step and sit for this exam. As a result, they fail. Knowing the test means you have to be well aware of the structures of this exam, time allotment to complete each section, the types of questions and obvious directions of every single section. If you remain well versed with these, you can actually mentally prepare yourself to face the test with confidence which is very important to crack it. Structure of IELTS exam comprises of four parts- LISTENING, SPEAKING, READING AND WRITING. You need to be well acquainted with all these four sections much earlier before sitting for this exam in reality. There are different timings for each of these sections. In the LISTENING part, you will have four sections, in the READING part, you need to read three passages. Writing sections consists of two tasks that you need to complete and in the case of SPEAKING, you need to directly speak to a native English speaker face to face for about 15 minutes.
One gets nervous by knowing that he has to interact with a native English speaker. Now, it is quite obvious that neither you can have that accent as a native speaker nor he will expect that from you. The trick here is to be confident, proficient and smart. To avoid a nervous situation, what you need to do is to prepare yourself thoroughly so that you can have a good idea regarding what questions they can ask you, what type of answers they are expecting from you and so on. Being punctual is an obligation to crack this test. Approximately one can have 40 minutes for the Listening part and a 10 minute time allotment during which you can copy your answers from the question paper to the answer sheet. Now, the most important part is the individual direction for every single section. You should not waste time by reading those directions line by line while sitting for the real exam rather if you have to practice much earlier so that you remain accustomed with the ways of solving answers. You have to memories those points and imply instantly as you see the questions.
Practice the test
Now, that you have an idea about the structure, to get that experience, in reality, you need to practice a lot. The best way you can prepare is to allot one or two days a week when you will only be preparing for IELTS. You need to continue with these very seriously till you approach for this final exam. A full test has to be performed in these two days without any fail i.e. you need to practice all the four sections from the start to end so that you know how it feels to sit in an exam hall for continuous 3 hours. Your room has to be silent with no distractions inside. This will try to give you the ambiance of an exam hall with a full focus on your question papers. For speaking fluency, you can take help from your friends over the internet who have already experienced this and you must record your responses. You can also speak to native speakers over the phone via social media to get that fear out of your mind. This will help you to evaluate your own performances. There are individual pass marks for each section. You can visit the website of your preferred foreign University to know about their preference of scores of IELTS examination.
Strategize
You must start from the weakest section so that it can be developed within the time frame. Reading and writing are the complicated and toughest sections. There are three long passages and it is true that reading a whole passage thoroughly in real exam hall will kill your time, so, you have to plan tricks to bravely interpret the passage. Nobody wants grade 9 out of 10 in this exam. For the majority of people, 7 or 7.5 is the standard and this is more than sufficient. Just like I mentioned before, you need to prepare yourself from long before your exam so that you don't panic in the official exam hall. You have to put your effort genuinely in your preparations. The more you practice, the better you will be able to formulate strategies that suit you and help you to solve questions in a timely and correct manner.
Practice and Feedback
Suppose, you are giving mock IELTS exams online for preparation and you are weak in writing. You can, of course, do a self-edit for further rectification, but again, on the next time, you will be achieving the same grade-6.5 instead of 7 or 7.5. Now don't ever think this .5 as a minor difference rather, it can be a huge difference in your overall grade. So, to get a proper evaluation, you need feedback from someone else so that you don't make the same mistakes repeatedly. Considering these important feedbacks can help you achieve your desired mark. You need to be very aware of your mistakes and a good teacher can guide you in this aspect. This is a very expensive test so, very effective preparation has to be made from the very beginning.
Prepare mentally
For this, assume this test as a project management and not just a mere English proficiency test. Set a goal for yourself like "I must reach a target of 7.5". Be hardcore serious regarding your goal. You need to prepare targets for each section like for writing, you are opting for grade 7, for speaking, you are opting for grade 6.5, for reading, you are opting for grade 8 and with all these combinations you will be able to reach your goal. Keeping this in your mind, you have to continuously improve yourself so that the preparation gets better and ultimately when you turn up for the final day, you remain prepared for what you are actually going to face. It will increase your chances to crack this exam on one go successfully.
Now, with all these tips, you might be feeling heavy headed. You might also be thinking about whom you can approach who can guide you as per these steps. There are many IELTS coaching in Chandigarh. It's really time-consuming to analyze reputations and rate of success for each of these organizations and also you don't want to waste your precious time much in searching for a convenient and reliable coaching in Chandigarh. Just for this reason, I have a suggestion for you.
KnowYourTutor.com is an amazing online consultant education provider who proficiently guides every single student to crack different competitive examinations by suggesting them the best tutors. There are numerous satisfied clients of this organization and the rate of their success is pretty amazing. Instead of your analyzing and choosing the best tutor for yourself, they will guide you with lots of expertise and knowledge so that you can avail the best options for choosing the right teacher. It will save both your time and money. The organization promises students of convenience and the high success rate of their students makes this matter evident.
So, now that you have all the steps ready and you also know whom to approach, utilize your precious opportunity to give out the best performance in your IELTS examination and you are sure to succeed.
Should you be looking for IELTS Exam Coaching, check out the list of best IELTS Exam Coaching institutes respective to your city.
 IELTS Coaching in Delhi / IELTS Coaching in Jaipur / IELTS Coaching in Mohali / IELTS Coaching in Panchkula / IELTS Coaching in Ludhiana / IELTS Coaching in Amritsar / IELTS Coaching in Bhathinda/ IELTS Coaching in Dehradun/ IELTS Coaching in Rohtak