NDA EXAM 2019: Date, Syllabus, Exam Pattern
---
Union Public Service Commission (UPSC) is the main body that conducts the national level entrance examination popularly known as the NDA exam. This exam provides the candidates with an opportunity to do any of the wings which include The Indian Army, Navy and Air Force.respectively.The test is followed by intelligent and rigorous physical tests that are essential for joining the core of the Armed Forces Regime. For a candidate's review and reference, the details of the forthcoming NDA exam pattern are included herewith.
National Defence Academy NDA Exam 2019 Details
NDA EXAM ELIGIBILITY
The candidates seeking admission to the NDA cadre core should satisfy the eligibility criteria which is based on factors like Age, Gender and Marital Status, Qualification and Fitness Level.
AGE
The official age limit for joining NDA is 16½ to 19½.
GENDER AND MARITAL STATUS
Unmarried male candidates are eligible to apply for NDA.
Candidates must undertake not to marry until they finish their complete training.
QUALIFICATION
For Army Wing of NDA: Candidates should have qualified 10+2 or equivalent examination from any recognized board.For Air Force & Naval of NDA and 10+2 Cadet Entry Scheme at the Indian Naval Academy: Candidates must have passed 10+2 or equivalent exam with physics and mathematics subjects.Candidates appearing in the qualifying exam are also eligible to apply.
PHYSICAL STANDARDS AND FITNESS
Candidates have to be physically fit as per the physical standards notified by the officials.
A candidate who has resigned/withdrawn on disciplinary grounds from any of the training academies of Armed Forces will not be eligible to apply.
NDA Exam 2019 Dates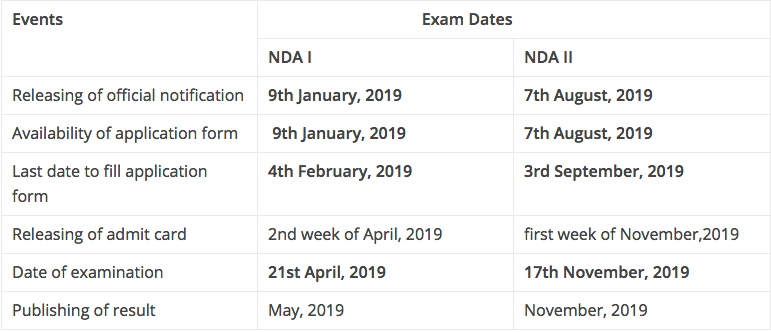 Organized twice a year through the offline mode or otherwise, the written exam the NDA 2019, the exam is held in two stages :
NDA (I) will be held on 21st April 2019
NDA (II) will be held on 17th November 2019.
NDA Exam 2019 Pattern
Mentioned below is the detailed exam pattern of NDA exam:


NOTE: There will be negative marking for every incorrect answer. The negative marking shall vary from subject to subject.
1.For Maths 0.83 marks
2. For English, 1.33 marks
3. For GK 1.33 marks
SSB Interview: After clearing the written test, candidates have to go through the SSB Interview. The interview process will have total 900 marks.
Language: The question paper of Mathematics and PART B of General Ability test will be available in both English and Hindi languages.
NDA Exam 2019 Syllabus
Syllabus of NDA exam is divided into two sections, i.e. Mathematics and General Ability. In order to obtain the best results, the aspirants are recommended to strictly and stringently adhere to the syllabus prescribed.Here we have mentioned the detailed NDA syllabus:

NDA SELECTION PROCEDURE
Applicants to the NDA are selected via a written exam conducted by the UPSC, followed by extensive interviews by the SSB covering general aptitude, psychological testing, team skills as well as physical and social skills, along with medical tests. Incoming classes are accepted twice a year for semesters starting in July and January. Here are some of the statistics of the NDA exam
-Number of Candidates: About 4,50,000 applicants sit for each written exam.
-Number of Students shortlisted for interview: 6,300
NOTE: Only unmarried male candidates are eligible for NDA & NA Examination.