NEET Exam : National Eligibility cum Entrance Test
---
NEET EXAM FOR ADMISSION TO UG AND PG MEDICAL COURSES IN INDIA
The National Eligibility cum Entrance Test (NEET) (UG) shall be conducted on May 5th,2019, Sunday by the NTA (National Testing Agency ).An independent, autonomous, self-sustained premier testing organization, The NTA is responsible for the conduction of a standardized, efficient, transparent and International Standard Test to evaluate the candidate's competence for admission to Premier higher education institutes.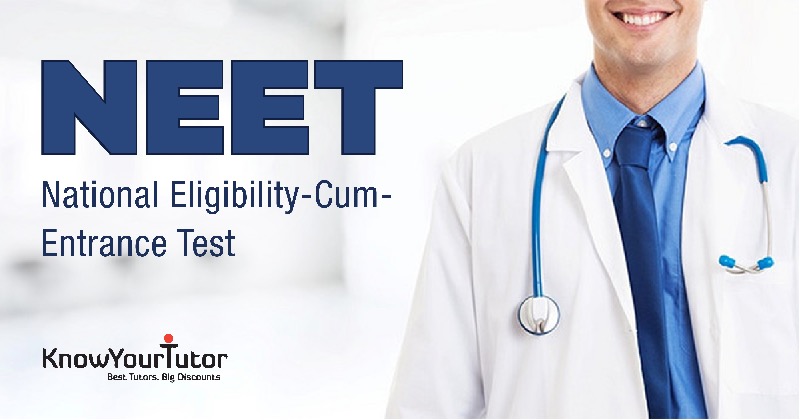 The Indian Medical Council Act 1956 and Dentists Act 1948 regulatory framework, amended time to time has laid the date of NATIONAL ELIGIBILITY CUM ENTRANCE TEST (UG) 2019)or (NEET (UG) – 2019 as May 5th,2019  for admission to MBBS/BDS Courses in Medical Council of India/Dental Council of India  under the Union Ministry of Health and Family Welfare, Government of India . However, the institutions established through an Act of Parliament i.e. AIIMS and JIPMER Puducherry do not come under this framework.
The National Eligibility cum Entrance Test or NEET examination is for students wishing to study for students who wish to study graduate medical course (MBBS) and dental course (BDS) in government or private medical colleges and dental colleges respectively in India. NEET-UG (Undergraduate), until now has been conducted by the Central Board of Secondary Education (CBSE) which also conducts NEET-SS in partnership with Prometric Testing Pvt Ltd headquartered in the USA. In the year 2013, the AIPMT (All India Pre Medical Test ) was replaced by NEET-UG which included admission to the medical and dental courses of undergraduate studies in states colleges. However, many colleges and institutes had taken a stay order and conducted private examinations for admission to their MBBS and BDS courses. Last NEET-UG was held on 6 May, 2018 and results were declared on 4 June of the same year.
STATISTICS ASSOCIATED WITH NEET UG 
COURSES: MBBS & BDS COURSES ACROSS INDIA
APPROXIMATE NUMBER OF SEATS: 66000
AVAILABLE SEATS IN THE NEET 2019 EXAM
The following are the categories of seats available quota wise for admission to all MBBS seats through NEET UG 2019 exam.
-All India Quota Seats
-State Government Quota Seats
-Central Institutions/Universities/Deemed Universities
-State/Management/NRI Quota Seats in Private Medical / Dental Colleges or
any Private University
-Central Pool Quota Seat
GENERAL INSTRUCTIONS FOR NEET 2019 UG
1. General Instructions
i. National Eligibility Cum Entrance Test NEET (UG) – 2019 will be conducted by Indian Medical Council Act-1956 and the Dentists Act-1948, with amendments from time to time.
ii. The appearing and qualifying in NEET (UG)-2019 Merely appearing and qualifying in NEET (UG) – 2019 does not confer any right to the candidate for admission to MBBS/BDS Courses. The selection
and admission to MBBS/BDS seats in any Medical Institution recognized for offering MBBS/BDS Courses is subject to fulfilling the admission criteria, eligibility, rank in the merit list, medical fitness and such other criteria as may be
prescribed by the Government of India, respective States, Universities,
Institutions and Medical/Dental Colleges.
iii. Applications of candidates submitting false and fabricated information will not be considered and such candidates will be further debarred from appearing in examinations conducted by the NTA.
iv. Incomplete application and applications not in accordance with instructions
will not be considered and are liable to be rejected without any further
intimation. The examination fee once deposited will not be refunded in such
cases.
v.NTA reserves the right to withdraw permission, if any, granted inadvertently
to any candidate who is not eligible to appear in the NEET (UG) – 2019 even
though the Roll Number and Admit Card has been issued by the NTA.
2. The PATTERN OF NEET 2019 UG

NOTE: Each Question gets 4 marks for correct answer and gets a penalty of 1 negative mark for the incorrect question
SYLLABUS FOR NEET UG EXAM 2019
The Question Papers for the NEET UG 2019 Exam covers the combined syllabus of Classes XI and XII and mainly follows the pattern as laid in NCERT books and based on a Common Syllabus notified by the Medical Council of India and implemented in the year 2013. It is also available at www.mciindia.org
REQUIREMENTS OF ELIGIBILITY FOR NEET UG 2019 EXAM
i. He/she has completed the age of 17 years at the time of admission or will complete that age on or before 31st December of the year of his/her admission to the 1st year MBBS/BDS Course.
ii. The upper age limit for NEET (UG) is 25 years as on the date of examination with a relaxation of 5 years for the candidates belonging to SC/ST/OBC
category and persons entitled for reservation under the Rights of Persons with Disabilities Act, 2016.
The Age criteria for appearing in NEET (UG) – 2019 is as follows:
Unreserved Category (UR) -Born on or between 05.05.1994 and 31.12.2002
SC/ST/OBC/PWD Category -born on or between 05.05.1989 and31.12.2002
iii. Indian Citizens/ Overseas Citizens of India intending to pursue MBBS/ BDS from a foreign Medical/ Dental Institute also need to qualify NEET (UG).
Preparation for filling up the Application Form of NEET exam
-Candidate can apply for NEET (UG) 2019 online by logging on to www.ntaneet.nic.in.
Some of the guidelines the candidate should note before submitting the online application form:
-Fill in carefully the information required:
1.Father/Mother and Candidate with correct spellings
2. Aadhaar Number (last 4 digits)/Election Card (EPIC No.)/Passport number/Ration Card Number/
Bank Account Number/Other valid Govt. Identity Card Number, Date of Birth, Address, Mobile Number, email id, etc. may be kept ready. For more details
about the information to be filled in, candidates may go to link "Replica of Application- 2019" on the website.
3. It is mandatory for the candidates to have to provide any one of the identity details as given below:
i) Category of Candidates  Types of permissible IDs
Indian Nationals of all Aadhaar Number (last 4 digits), Election
Card (EPIC No.), Ration Card Number, Bank
Account Number, Passport Number or
Number of any other Identity Card issued by
Government.States
ii) NRIs  Passport Number, Aadhaar Number (last 4digits)
iii) Foreign Nationals/ OCI/PIO  Passport Number
NOTE: The prospective Candidate should have scanned images of his/her latest Photograph (size of10 kb to 200 kb) and Signature (size of 4 kb to 30 kb) in JPG/ JPEG format
only, for uploading as part of the submission of online application.
NEET PG EXAM
In NEET-PG, the question paper is divided into 3 parts: Part A having 50 questions, Part B having 100 questions while Part C having 150 questions. 4 marks are awarded for each correct answer, while 1 mark is deducted for every wrong answer. No marks are deducted if the candidate has not attempted a question. The total time duration is of 3 hours 30 min.
STRUCTURE OF THE NEET PG  EXAM
The syllabus for NEET-PG is the same as that of the MBBS course described in the MCI Regulations concerning Graduate Medical Education, 1997. The multiple choice questions (MCQs) will be based on the MBBS syllabus, as will the knowledge that needs to be acquired during the internship period, which is also described in said regulations. The distribution of questions, model questions and method of tie breaking for ranking have been placed on the website, as well as in the Prospectus. All subjects taught during MBBS which includes Pre-Clinical, Para-Clinical and Clinical subjects. The Common Entrance Test (CET), also known as the NEET Postgraduate exam, is for admission to postgraduate medical courses across India