MAT EXAM (MANAGEMENT APTITUDE TEST)
---
Management Aptitude Test (MAT) is a standard aptitude test conducted in India since 1998 by the All India Management Association (AIMA). MAT is used for admission to Master of Business Administration (MBA) and allied programmes by over 600 business schools across India. It was approved by the Ministry of Human Resource Development in 2003.
All India Management Association (AIMS) conducts Management Aptitude Test or popularly known as MAT four times a year for admission to around 600 B-schools across India. MAT is a national level MBA entrance test conducted in the month of February, May, September and December. MAT 2019 February exam will be conducted in offline (paper-pencil) on Sunday, February 17, and in computer-based mode(CBT) on February 23. Candidates can choose to write the exam in either or both the modes. The exam has multiple choice questions only.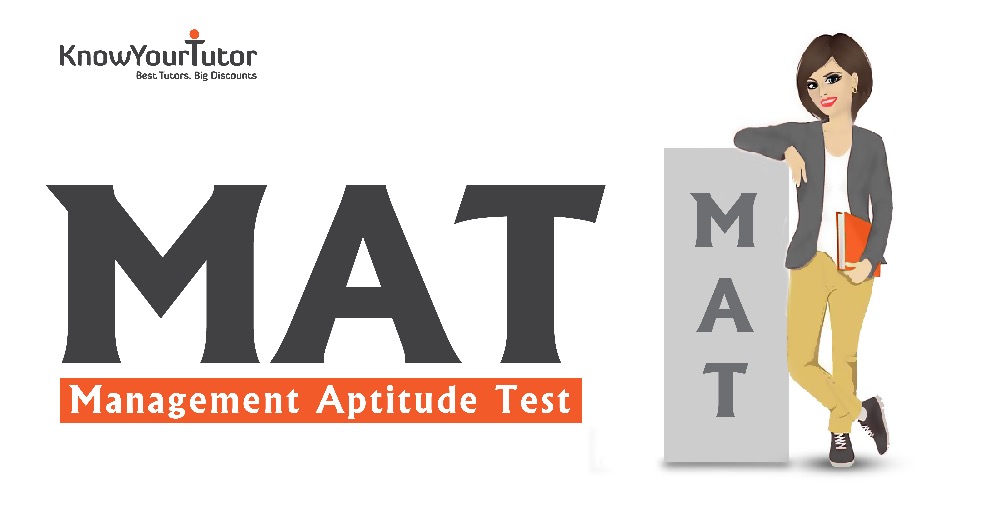 MAT Score is acceptable even to certain other Institutes for considering the admission of candidates for Post Graduate Degree / Diploma programmes, besides the above Institutes, subject to specific cut-off marks and other admission parameters.
SYLLABUS OF MAT 2019
Though the syllabus has not been defined by the AIMA, yet from the past exam analysis the section wise topics are mentioned as below: Based on past exam analysis, the vital topics and areas are mentioned below-
A.) MATHEMATICAL SKILLS
This important section covers questions on various topics such as Arithmetic, Algebra, Geometry, Mensuration, Trigonometry to Cubes, Number System, Probability, etc. Majority of the questions are asked from class X Arithmetics by NCERT. The Arithmetic topics are as follows-
Ratio and Proportion
Profit & Loss
Averages
Time-Speed-Distance
Time & Work
Partnerships
Percentages
B.) LANGUAGE COMPREHENSION
Language Comprehension. MAT syllabus 2019 will consist of two parts:
i)Reading Comprehension
ii) English vocabulary clubbed with Grammar. The vocabulary and grammar part will have the questions on the following language elements –
Synonyms and Antonyms
Idioms
Fill in the blanks
Odd word out
Jumbled words and sentences
Para jumbles
Sentence correction
C.) DATA ANALYSIS AND SUFFICIENCY
The Data Analysis and Data Sufficiency tests the candidate's ability to interpret numbers to understand figures and data in depth. In Data Sufficiency the candidates are asked a question and given two pieces of information, or statements. and te job is to find out whether you can answer the question using the information given.MAT 2019 syllabus pertaining to the Data Analysis and Sufficiency is given below-.
Caselet
Bar graph
Line graph
Pie Chart
Mixed charts and graphs
Table
Data Sufficiency
Data Comparison
INTELLIGENCE and CRITICAL REASONING
Section majorly covers the questions on Mathematical Reasoning. The other questions are asked on Verbal Ability. The Verbal Ability section might have questions from the topics given below-
Analogy
Series
Statement-Conclusion
Family Tree/Relation
Directions
Analytical Reasoning
Assertion Reason
Cause and Effect
Coding and Decoding
INDIAN AND GLOBAL ENVIRONMENT
This section, a mix of General Knowledge and Current Affairs can be prepared through a reading of yearbook, watching the news and reading a daily newspaper. Amidst the two, more questions can be expected from the current stories. The topics of the current affairs area may include –
Business Awareness
Politics
Sports
Books and Authors
Entertainment
Social Issues
NOTE: Incidentally, the scores of Indian and Global Environment section is not considered for the final scaled score.
IMPORTANT INFORMATION PERTAINING TO MAT EXAMINATION 2019
i) ELIGIBILITY REQUIREMENTS
Graduates in any discipline. Final year students of Graduate Courses can also apply.
ii) MODE OF EXAMINATION
Candidate can take MAT as
a) Paper Based Test (PBT) or
b) Computer Based Test (CBT) or
c) Both PBT & CBT
Candidate can opt for both the tests i.e. PBT and CBT by paying an extra fee of 1100/- in addition to 1550/-.
Candidates opting for both PBT and CBT will have the benefit of selecting additional 2 Management Institutions for sending their scores in addition to the existing option of selecting 5 Management Institutions i.e. they can select 7 Management Institutions in total.
iii) APPLICATION PROCESS
Register online at website link: https://mat.aima.in/feb19 with Credit Card/Debit Card (ATM Card) or Net Banking. The fees details are given below:
a.) For Paper-Based Test(PBT)…….Rs 1550
b.) For Computer Based Test (CBT)……Rs 1550
c.) For Both PBT & CBT……Rs 2650
iv) ONLINE REGISTRATION NECESSARY DOCUMENTATION
a.) Valid Email Id
b.) Scanned image of a photograph ( 40 to 100 kb)
c.) Scanned image of signature (10 to 40 kb)
d.) Credit Card/Debit Card (ATM Card) or Net Banking details
(All provisionally registered candidates for PBT and/or CBT can download their Admit Card from AIMA website link: https://mat.aima.in/feb19 as per the schedule given above.
The Admit Card contains the candidate's following information:
1.Candidate's Name
2. Form No
3. Roll No
4.Test Date Time and Venue Address.
Also, note that the Candidate has to strictly follow the date and time allotted to him/her in the case of CBT.
MAT RESULT
The Candidates have to download the MAT Score from AIMA website http://www.aima.in
TEST CENTERS
Candidates should note that the test centres for both PBT and CBT are different
PARTICIPATING INSTITUTES LIST
Select the institutes where you have applied or are applying for admission.
Important Notice: Candidates are advised to check the approval/recognition status of various programs directly from the concerned Authorities/ Institutes/ Universities.
AIMA has come across a couple of cases where the aspiring candidates' MAT score is not accepted by some participating institutes/universities for admission to MBA full-time course despite their confirmation to AIMA MAT at the time of participation by incorporating their notifications in MAT e-bulletin. Candidates are advised to recheck with the concerned institutes/universities before applying for MAT.