Know Your Tutor CRM! An App that Will Revolutionize Your Business
---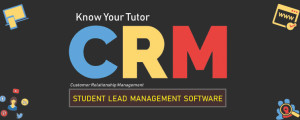 Everybody today is on a run, a never ending run because the work load and which used to be normal day to day activities unbothered by all are now on such a brink of ignorance that people suffer to make time for it. When something that was so natural like making time to relax or sleep is now according to a plan or a schedule, how can one waste time gathering all the files and details on a piece of paper. The endless records on registers are changing to a much synchronized platforms where every single feather of information can be stored and retrieved in literally seconds. One such platform that has recently appeared that is idiosyncratic is KYT CRM; Know Your Tutor Customer Relationship Management app.
Now, many of you out there might be thinking that saving data or keeping records on your computer is no big deal as there is always an excel sheet that one can maintain and other such medias that one can work with. But what they don't offer is smooth, uninterrupted tracking where you don't have to press Ctrl+f to search your way, where there can be a profile maintained of various personnel who you can assign specific leads that they can manage and work for, where app is your assistant and communicates with you to remind you of what the plans or follow ups for the day are. It's an everyday handy device workable with various kinds of peripherals and at disposal of numerous areas of discipline and realms. It is revolutionary, apt for the modern day benchmark oriented world that we are living in.
We know how computer works and so it's features, but what we are in need for today is a computer to create a virtual reality to cast itself into friendly and understandable medium for the non-technical person to be able to easily work with. KYT CRM has managed to establish this through its features where work looks like a child's play; it's that easy.
So what is KYT CRM?
First let us establish that KYT CRM is managing platform where you can track any record that you build in it. It is best suited for tutors, schools, institutions like immigration offices, coaching centres, for event management planners and companies etc. wherever there is a need to follow-up with a lead. Now to make this clearer, here lead is a client and every client has his or her specificities with which you as a provider would be adhering to your clients needs. Now, you may have a business where each client has to be dealt with separately and every detail will be needed to keep a record of in order to execute your work as intended. Say, you have 50 events to manage and each event will have various invitations to pass on, VIP data to be entered, finances to be managed, requirements to be full filled etc. Or you are a tutor and every student track record is needed to be maintained from sending notes to test schedules to records of the marks obtained to the attendance and classes they attended, lectures they completed etc. To make a excel sheet on a computer or worse keeping a written record will be havoc for you because when we are time bound and need answers fast such things add to the trouble. Here you need a platform where you can access entire paraphernalia; as one may call and here is when KYT CRM enters in your world making your lives easy.
How does it work?
So what this app does is it gives you a building block to enter your data and it lets your team access the various features simultaneously. If you are working as a team each team person can be allotted with different attributes to follow up their respective clientele.
You can track the progress made from wherever you are as this app is mobile friendly. That means even if you are on a short vacation or for some reason you can't be there to work in your office, your team can still be under your scanner 24/7 from anywhere around the globe.
As far as security issue is concerned, KYT makes sure that there is no infringement what so ever and takes full liability in any case. You need not worry about data loss at any point of time because the technology used stands impregnable.
To be precise, KYT CRM app gives you:
Storage: You can keep record of as many clients as you want uninterrupted. It is limitless and offers features where you can store every little detail that you wish to keep.
Manage: You can manage the data as and when you please. You can change, shift the dates, edit the previous data, make amends according to your feasibility and allot the work into different genres to your people.
Track: You can track any record at any point of time. Multiple entries can be tricky but KYT CRM is built in such a way that you can track and have all the record there and then.
Assign: This is the special feature where this app let you as a team leader assign different departments to you team members where they can handle their chore adequately without creating any kind of confusion or unhealthy working.
Calendar Pop-Up Notifications: This works as magic like a wand. Even if something is due a month from now, you only have to make an entry and assign that to a specific date and the window will pop up on that respective follow-up day with all the information needed. It's like hiring a personal secretary reminding you of every little knick knack that you want to keep in mind.
Easy handover: It always happens every now and then that someone is being hired or leaving an institution. This app give you a platform to help the person you hire in order to have complete understanding of your working as everything is at your dispense only a fingertip away.
It is made to help you keep your business labour-saving, streamlined rather aerodynamically super fast. You can opt for a trial to get crux of how it works and how beneficial it may be to your establishment.
Try it to know it better!