Classroom Coaching versus Online Coaching
---
With the change in the level of competition all around the world, the routes for preparing oneself for any kind of examination have also evolved with time. Whether one prepare for school exams or for IAS preparation or IELTS preparation or Government Jobs etc, full proof preparation is must. Gone are the days when students/learners had to pay their attention and concentration to their school teachers for, they are the people on whom the children mostly relied. This was quite intrinsic and the teacher-student relationship was quite easier then compared to as of now. But as days passed by, things turned more complicated, education started to emerge as a huge pressure on every single child. All the children began to realise that they are losing their childhood while running to tuitions after their school. It would be better to say that increasing complications convinced their parents that if they don't select the best teachers for their children, they cannot compete in their future and will be perished under this increasing competitiveness.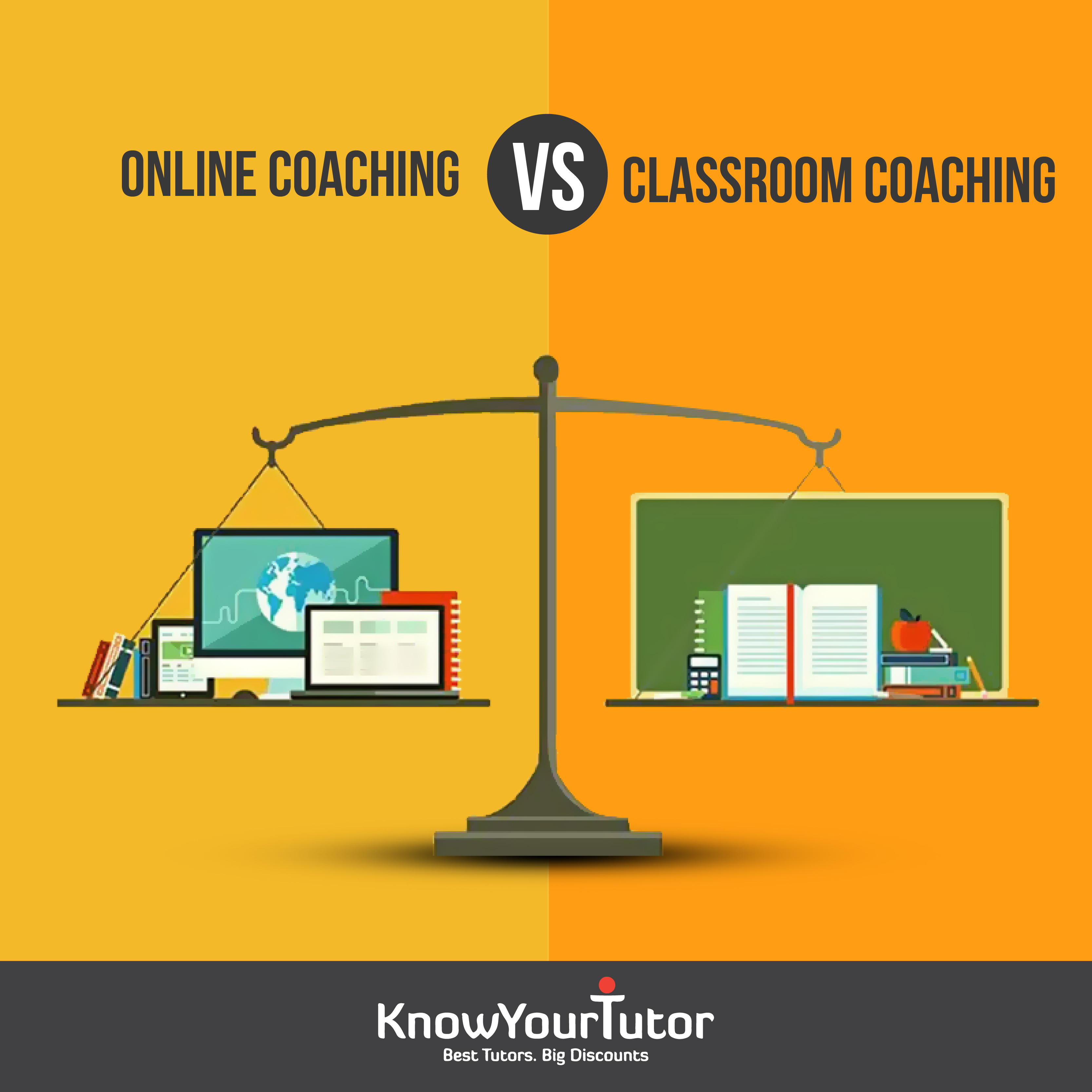 That was the moment when 'coaching classes' started to get famous and they became even more important than the school teachings. Somehow, the concept turned out to be like this, that children cannot miss their tuitions at any cost but, in case of school this was not a compulsion. The school teachers also began to accept this reality although, they initially tried to convince both the parents and the students that if they disregard their school teachings, this can be a great problem to their respective children's future. But, the on growing concept of 'coaching classes' was getting so popular then, that in some cases, it was seen that school teachers themselves were giving tuitions to the students after the school hours were getting over. Now, this decision was taken for two reasons. The first reason was that the school teachers needed to prove their teaching efficacies and these included their way of teaching or convincing a child, motivating them to study better and to achieve good results. The second reason was that the teachers have to keep up with these increasing competitions of the 'coaching classes', i.e. more the popularity, more will be the students and obviously their profit.
Now, this did not remain confined to schools only but, colleges and universities soon became a part of the same. What mattered the most in this huge buzzing concept is- the 'teaching method' that were taken by the teachers of different levels and different subjects. The various subject matter experts soon realised that apart from teaching the book lessons, it was even more important to teach the students some practical lessons that can be applied by them in their future for their own good. Earlier, when internet had not become that famous, classroom coaching was the sole option. But the opportunity expanded to a very dignified level when online coaching was evolved. It took the concept of giving tuitions to the students to a very higher level where they can even feel that they are within a classroom while merely sitting at the comforts of their own home. It motivated students to a very significant extent. Online coaching soon became a preferred option for majority students who are part time or full-time workers or even for students who are studying multiple disciplines simultaneously.
The concept of coaching has thus become an inseparable feature for anyone, no matter on which level he is studying or for what kind of competitive exam he is preparing for as both classroom teachings and online classes are very much prevalent from a toddler's stage. So, the interesting question in this regard is, WHICH OPTION IS BETTER- the classroom coaching or the online coaching? Knowyourtutor.com has tried to list the pros and differences of both the options for anyone to read and decide for themselves, the best option! Read on.
Pros of Classroom coaching
It is one of the most effective method for bringing out the best from every single student.
It provides a good platform where teachers can explore individual students, can develop their talents and help them gaining their confidence.
It provides ample opportunities to the students to explore themselves and to get aware of their respective strengths and weaknesses. A classroom is the place where students from different backgrounds and different merits come together and meet face to face. Face to face teaching and conversation creates a deep impact and helps in understanding every single detail of a subject.
Classroom coaching enables group works and rapid group discussions related to a topic where both students and teachers get to know about different opinions. This automatically fosters learning and retention of the knowledge to a very great extent.
One of the most precious gifts that the teachers provide in classroom coaching is 'listening without any judgement". A student can have more satisfaction in learning from a classroom coaching.
Pros of Online Coaching
It is easily accessible to aspiring students and even working professionals can continue with their study even when they are working part time or full time for their living.
It is cheaper than the classroom coaching and is available and accessible only via Internet.
Online coaching is very much flexible and a student according to his free time and schedule can avail that at any time.
It has arrangements for online examinations which become easier for the students to give whenever they find time and suitability.
As it is one-on-one interaction, a student can pay 100% attention to his teacher and vice-versa. Distractions are generally avoided here.
A student can feel less nervous while deriving knowledge from online coaching and thus, he can focus more.
A student can get all the study materials and Mock test papers with just a simple click. It is easy, hassle free and convenient.
So, those are the features of the two different forms of coaching but now, if we look back to the same question mentioned earlier, i.e. which one is the best then, some points are ought to be mentioned here. Let us check out the comparisons of both the coaching methods now.
Comparison of Online Coaching and Classroom Coaching
| | | |
| --- | --- | --- |
| S.NO | ONLINE COACHING | CLASSROOM COACHING |
|  1 | Though online coaching classes can be availed at any time of the day by a student, it lacks the proper interest and a craving to learn more. | Interest is maintained as if a student faces any problem, he can directly interact with his teacher and can learn more. |
|  2 | In online coaching, majority students will not be able to get in depth of their subject and they will be more casual. Sometimes, they may not feel the importance of listening to online sessions every day and will thus attempt online tests without any preparation. | A classroom coaching maintains a proper discipline and a particular time frame during which a teacher teaches his students. It infuses a sense of punctuality and discipline into the students and it helps them to become more responsible as they grow up. |
|  3 | Retention of knowledge becomes much difficult in online courses. Group discussions and group works are rather difficult to perform | Group works and group discussions are mandatory parts of classroom teaching where students are continuously encouraged to speak their opinions and to go in depth of a matter rather than remaining superficial. It increases communication level and a student can better explore himself while remaining in a group |
|  4 | No such competition is developed in the online coaching if no group discussions are available | With large number of students in a classroom, there remains a positive competition between them and this is how a teacher can bring out the best from a student |
|  5 | One-on-one teaching method provides full attention to a student. | it can be monotonous for the students to whom one-on-one teaching is the most preferable way to obtain knowledge |
|  6 | Getting queries answered becomes rather difficult if no proper procedure is established | Queries are easily addressed in a smaller group. For larger groups, separate question-answer hour would lead to consumption of extra time. |
|  7 | Get all the learning material with just one click. Total convenience. | Too much material becomes difficult to manage and store |
|  8 | probability to contain the same old knowledge rather than giving the most updated information to the students is higher. | probability to contain the same old knowledge to the students is lesser as during classroom notes for the updated information can be easily supplied. With smart classes, this has become more convenient. Digital representation of the subject enables a student to understand every detail and the study becomes compact. |
|  9 | 'Learning satisfaction' is lesser and retention level may decrease. | 'Learning satisfaction' is much higher and retention of the same is also higher |
|  10 | a student can listen to the online sessions as many times as he wants | This is not possible in classroom coaching. Although classroom teachings are so compact that a student can memorise that for his whole life and can apply his knowledge really efficiently |
A look at the above table would make it look like that the classroom coaching is a better option for students who want to get engage in in-depth study but, for the people who really find difficulties to manage/ fix time off from their work, online coaching is the best option for them and can help them to learn along with their work. Through Knowyourtutor.com, any student can get the best of both the options. For those who prefer classroom coaching, you can browse the website and find the best tutor giving tuition for the required subject according to your need and availability. Online self-study material is also made available for students considering self-help as best option. On the other hand, the website also lists various courses like as IAS Exam Course, GATE Exam Course, SSC JE Exam Course, PCS Exam course, IELTS Exam Course, CAT Exam Course, Bank PO Exam Course  and tutors who are providing online coaching and student has the first hand to chose and customize according to his needs and get the adjustment made with the tutor's schedule. Hence, both the teaching methods are good. It totally depends on the learning criteria adopted by any student to chose the best suitable method of learning.
Knowyourtutor.com wishes all the students, all the best to decide the best for themselves.