Immigrate to Canada without IELTS
---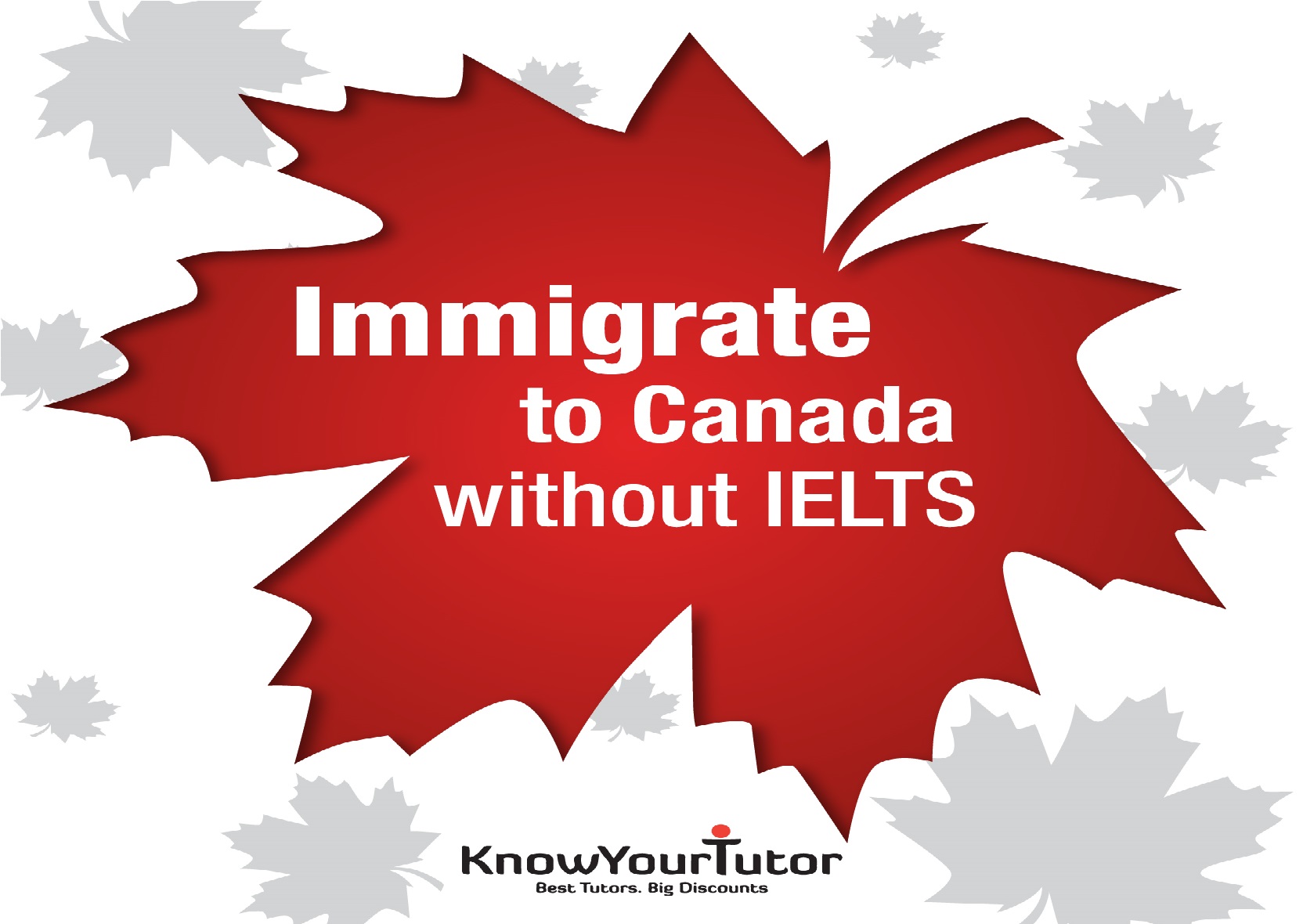 Who don't aspire to go abroad? There are many Indians who are travelling to abroad countries for fulfillment of their differential purposes. Some are going to pursue their higher education, some are opting for greater job opportunities and some are aiming to settle permanently in their dream destination for a secure future and a happier life. When it comes to go to abroad destinations, there are many names that comes in the mind of Indians. These are Australia, UK, USA, New Zealand etc. But among all of these countries, Canada is really significant in all aspects. If you are wondering for higher study in Canada, then, there are immense top class universities located here. If you are aiming for jobs, then, Canada has some world class global employers and sectors like healthcare, technology and engineering are very booming in this nation. If you are someone who dream to permanently settle in Canada, then also, you can have a grand opportunity for your dream fulfillment as, Canada's government gives a lot of support and opportunities to the immigrants due to their great political and economic stability. Due to expanding diversity and peaceful ambiance, all immigrants can find their cherished 'comfort zone' in a completely unknown land of Canada.
So, the moment when the concern of immigration to Canada strikes upon a person's mind, he thinks of the processes involved in it and also searches for adequate guidance. This process is quite cumbersome and all people know that. But, no matter what your purpose is for immigration, you have to sit and score good in IELTS examination. IELTS is the abbreviated of International English Language Testing System. One has to proof his proficiency level in English SPEAKING, READING, WRITING AND LISTENING. If one successfully pass this exam with band 6.5 to 7.5, he has a very high propensity to turn his dreams into reality in Canada. One can get admission to his desired Canadian University or can also get hired by globally reputed Canadian employers and also can permanently settle in here. Clearing IELTS exam ensures that you are suitable enough to immigrate to an American country like Canada where English is the primary language and French is the secondary language. The main problem is that securing a good band is not so easy in IELTS. Various factors play an important role to successfully crack this highly expensive and tricky exam.
Many people even after trying several attempts fail to score a good band and only a few people can crack at the first time. TIME MANAGEMENT, KNOWING THE BASICS OF IELTS, RANDOM PREPARATION AND STRINGENT DETERMINATION- all these are important to have success in IELTS. So, there are many people who look for other way outs to immigrate to Canada without IELTS exam. Now, before we get into further analysis, we want you to know that going to Canada without IELTS can bring you much hassles and your aspirations may not turn into realities. If you are really afraid or lack proficiency in English then, living in an American country like Canada can be difficult for you. If language becomes an issue in a foreign land, no one can pay extra attention to you for understanding your language. On top that, if someone cracks IELTS successfully, then, other associated migration processes become much easier too.
As we are focused on Immigration to Canada without giving IELTS, let's see how one can do that.
Study in Canada without IELTS.
Recently, some Canadian Universities have decided to make it easier for the international students to get admission. These universities have removed their strict criteria of minimum band in IELTS exam, thus, making an open opportunity to the global students. Now, the question comes, why these Universities themselves waived off the minimum grade in exams like IELTS? Canadian universities have observed that students who had completed their higher secondary or graduation from a reputed university, holds good English proficiency and knowledge. Hence, they decided not make an obligation of successful attempt in IELTS exam. Some Canadian Universities are accepting a very low IELTS band like, band 6 for getting admission. But, we must tell you that even if you select a university that does not require IELTS, it can demand other supporting documents from you while admission. These documents are alternatives to IELTS exam score as these will be required by the university to know your English proficiency. Documents include- medium of teaching in your last obtained degree, your academic certificates, transcripts etc.
There are a number of good Canadian Universities, where you can apply without IELTS. There are many students who had received formal degree education certificates in three or more consecutive years in English. Apart from this, students who had already completed either an O-level or A-level examination, can get an IELTS exemption. All these universities have their own set of exemptions and the candidates are required to proof their English efficiency to avail these. Canadian Universities that offer this exemption are listed below-
• Brock University
• University of Winnipeg
• University of Saskatchewan
• Memorial University
• University of Regina
• Carleton University
• Concordia University.
Still, a question exists even after knowing that students can go to Canada without IELTS. The question is- WILL THERE BE ANY VISA TROUBLES WITHOUT IELTS? As we said earlier also, that without IELTS, every associated immigration processes become hectic. Recently, Canada has launched new regulations regarding international Students' visa which not only ensures their genuine enrollment in a Canadian University but also give them a certain level of freedom to the students to work besides studying. Earlier, students only had to show evidence regarding their intention to study in Canada for getting their visa ready. But, now, they also need to prove their admission to a Canadian University. So, students without IELTS exam, need to show their enrollment in a Canadian University for obtaining their visa.
Work in Canada without IELTS
To be really true to all readers, if someone opt to work in Canada without IELTS, it can be really an unwelcoming situation. Why people want to go abroad? The basic reason behind this is obviously to explore and to excavate more opportunities right? So, nobody will ever want to spend a lump sum amount of money just to arrive in Canada without IELTS. And, if this is the case in reality also, then the condition can be really hectic to you. Canada is cheaper in comparison to all other American countries. It is absolutely true but still, the lifestyles and all the other expenses are really lavish in Canada.
You can get small jobs in Canada without IELTS and you will be handed a minimum wage. Even if you are an engineer or a lecturer in India, you cannot be in the same profession there just because you don't know English properly. You can end up in getting jobs like a laborer or a sweeper or in very minor professions. In spite of having skills, you will not be given your desired opportunity just because of your inefficacy in English. Getting a good score in IELTS ensure that you can get the desired opportunity in Canada in all aspects. The same helps the employers to know that they are hiring the right international talent who can understand their company and can be a part of their major workforce.
So, is there no door open to Canada without IELTS?
Yes! Of course! But, only as a tourist. If you want to go to Canada just to travel around the country or to visit a relative, you don't have to worry a second time regarding proving your English proficiency. The only requirements are VISA, Passport, travel documents, hotel and flight booking evidences and photographs.
So, coming to the conclusion part, if you want to study in Canada without IELTS, you can definitely but, you cannot get chance in top class and globally reputed Canadian Universities. Although, you can study general courses in Canada without IELTS, but, you cannot work in a dignified profile if you are planning to immigrate without IELTS for job purposes.
To know more regarding which scopes will be better for you in Canada without IELTS, you can take help from immigration consultants in Chandigarh. You can also look for visa consultants in Chandigarh or student visa consultants in Chandigarh. But instead of searching and analyzing so many consultants, you can directly avail help from KnowYourTutor. It is an online website and well reputed online platform in India from where various people have already benefited themselves by getting adequate information regarding their immigration issues. KnowYourTutor is a mediator who helps you to get connected with an efficient immigration consultant on the basis of your requirements. Being a trademark online platform, they are very much genuine regarding the help they provide to the people. Their charges are also very affordable. So, why waste your precious time and money to take views from so many consultants when you can have the most efficient guidance? If you are really planning to immigrate to Canada with/without IELTS, you can get the right help from KnowYourTutor.